Untertitel:
The Prequel to The Pillars of the Earth, A Kingsbridge Novel
Genre:
Romane & Erzählungen
Herausgeber:
Pan Macmillan
International No.1 bestseller Ken Follett returns with The Evening and The Morning, a thrilling and addictive novel from the master of historical fiction. It is 997 CE, the end of the Dark Ages, and in England one man's ambition to make his abbey a centre of learning will take the reader on an epic journey into a historical past rich with ambition and rivalry, death and birth, love and hate. Thirty years ago, Ken Follett published his most popular novel, The Pillars of The Earth, which has sold over 27 million copies worldwide. Now, this novel, the prequel, will take the readers on an epic journey that will end where The Pillars of The Earth begins . . .
Just as transporting as [
The Pillars of the Earth
] . . . A most welcome addition to the Kingsbridge series
Vorwort
The thrilling novel from the No.1 Internationally bestselling author Ken Follett. An epic, addictive historical masterpiece that begins in 997 CE and is set against the background of the medieval church and one man's ambition to make his abbey a centre of learning.
Autorentext
Ken Follett was twenty-seven when he wrote
Eye of the Needle
, an award-winning thriller that became an international bestseller. He then surprised everyone with
The Pillars of the Earth
, about the building of a cathedral in the Middle Ages, which was an Oprah Book Club Pick and continues to captivate millions of readers all over the world, and its long-awaited sequels,
World Without End
and
A Column of Fire
, were number one bestsellers in the US, UK and Europe. He has also written the bestselling Century trilogy, which comprises
Fall of Giants
,
Winter of the World
and
Edge of Eternity.
Klappentext
Praise for the Kingsbridge novels

'A historical saga of such breadth and density . . . Follett succeeds brilliantly in combining hugeness and detail to create a novel imbued with the rawness, violence and blind faith of the era' Sunday Express

'Where Follett excels is in telling a yarn . . . you won't be able to put it down' Independent

'Follett's storytelling skills make their adventures riveting' The Times

'The characters, both fictional and real, are fascinating, and the Tudor period setting holds its own special allure. This is a novel that fans of historical fiction will savour and cherish' National

'This is a huge book in every way, sweeping and yet detailed, a powerful story packed with superbly drawn characters' Choice Magazine

'Enormous and brilliant . . . this mammoth tale seems to touch all human emotion - love and hate, loyalty and treachery, hope and despair . . . This is truly a novel to get lost in' Cosmopolitan

'A highly enjoyable tale . . . this book evokes its period brilliantly' Sunday Times
Zusammenfassung
From the bestselling author Ken Follett, The Evening and the Morning is a historical epic that will end where The Pillars of the Earth begins.
A Time of Conflict
It is 997 CE, the end of the Dark Ages, and England faces attacks from the Welsh in the west and the Vikings in the east. Life is hard, and those with power wield it harshly, bending justice according to their will often in conflict with the king. With his grip on the country fragile and with no clear rule of law, chaos and bloodshed reign.
Three Lives Intertwined
Into this uncertain world three people come to the fore: a young boatbuilder, who dreams of a better future when a devastating Viking raid shatters the life that he and the woman he loves hoped for; a Norman noblewoman, who follows her beloved husband across the sea to a new land only to find her life there shockingly different; and a capable monk at Shiring Abbey, who dreams of transforming his humble abbey into a centre of learning admired throughout Europe.
The Dawn of a New Age
Now, with England at the dawn of the Middle Ages, these three people will each come into dangerous conflict with a ruthless bishop, who will do anything to increase his wealth and power, in an epic tale of ambition and rivalry, death and birth, and love and hate.
Thirty years ago we were introduced to Kingsbridge in The Pillars of the Earth, and now in this masterful prequel international bestseller Ken Follett will take us on a journey into a rich past, which will end where his masterpiece begins.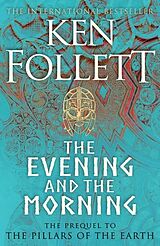 Leider konnten wir für diesen Artikel keine Preise ermitteln ...
billigbuch.ch sucht jetzt für Sie die besten Angebote ...
Die aktuellen Verkaufspreise von
9 Onlineshops
werden
in Realtime
abgefragt.
Sie können das gewünschte Produkt anschliessend direkt beim Anbieter Ihrer Wahl bestellen.
| # | Onlineshop | Preis CHF | Versand CHF | Total CHF | | |
| --- | --- | --- | --- | --- | --- | --- |
| 1 | Seller | 0.00 | 0.00 | 0.00 | | |
Onlineshops ohne Resultate: