Genre:
Romane & Erzählungen
Herausgeber:
Penguin Books
Erscheinungsdatum:
17.09.2020

_____________________________________________''A writer who dares to be witty, intelligent and emotionally generous at once'' New York Times''Hornby''s prose is artful and effortless, his spiky wit as razored as a number-two cut'' Independent''Hornby writes with a funny, fresh voice which skewers male and female foibles with hilarious accuracy'' Guardian>

Autorentext
NICK HORNBY is the bestselling author of eight novels, including High Fidelity and About a Boy, and several works of nonfiction including his ground-breaking debut, Fever Pitch. He has written numerous award-winning screenplays for film and television including Brooklyn, Wild and, most recently, State of the Union.

Klappentext
'A charming - and sharp - love story about what it means to fall for someone who is your polar opposite' Sunday Telegraph
_______________________________________________________

Lucy married just the sort of man you might expect: a university graduate who runs his own business. Unfortunately he turned out to have serious dependency issues.

Joseph is shaking off the memory of his last date, a girl who ticked all the right boxes and also drove him up the wall.

On an average Saturday morning in a butcher's shop in North London, Lucy and Joseph meet on opposite sides of the counter. She is a teacher and mother of two, with a past she is trying to forget; he is an aspiring DJ with a wide-open future that maybe needs to start becoming more focused. Lucy and Joseph are opposites in almost all ways. Can something life-changing grow from uncommon ground?

Nick Hornby's brilliantly observed, tender and brutally funny new novel gets to the heart of what it means to fall headlong in love with the best possible person - someone who may not be just like you at all.
_____________________________________________

'Truly funny . . . immensely readable, sharp-eyed and at times hilarious' Guardian

'Comedy for our times' Sunday Times

'Sparkles with tip-top dialogue and pin-sharp comic timing' Daily Mail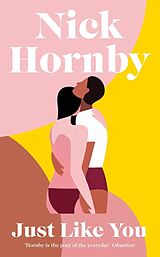 Leider konnten wir für diesen Artikel keine Preise ermitteln ...
billigbuch.ch sucht jetzt für Sie die besten Angebote ...
Die aktuellen Verkaufspreise von
7 Onlineshops
werden
in Realtime
abgefragt.
Sie können das gewünschte Produkt anschliessend direkt beim Anbieter Ihrer Wahl bestellen.
| # | Onlineshop | Preis CHF | Versand CHF | Total CHF | | |
| --- | --- | --- | --- | --- | --- | --- |
| 1 | Seller | 0.00 | 0.00 | 0.00 | | |
Onlineshops ohne Resultate: