Untertitel:
A Brief History of Humankind
Herausgeber:
Random House UK Ltd
Erscheinungsdatum:
01.05.2015
THE MILLION COPY BESTSELLERFire gave us power. Farming made us hungry for more. Money gave us purpose. Science made us deadly. This is the thrilling account of our extraordinary history - from insignificant apes to rulers of the world.Earth is 4.5 billion years old. In just a fraction of that time, one species among countless others has conquered it: us.In this bold and provocative book, Yuval Noah Harari explores who we are, how we got here and where we're going. 'I would recommend Sapiens to anyone who's interested in the history and future of our species' Bill Gates
VorwortWhat makes us brilliant? What makes us deadly? What makes us Sapiens? This bestselling history of our species challenges everything we know about being human.Autorentext
Prof Yuval Noah Harari has a PhD in History from the University of Oxford and now lectures at the Hebrew University of Jerusalem, specialising in World History. Sapiens: A Brief History of Humankind has become an international phenomenon attracting a legion of fans from Bill Gates and Barack Obama to Chris Evans and Jarvis Cocker, and is published in sixty languages worldwide. It was a Sunday Times Number One bestseller and was in the Top Ten for over nine months in paperback. His follow-up to Sapiens, Homo Deus: A Brief History of Tomorrow was also a Top Ten Bestseller and was described by the Guardian as 'even more readable, even more important, than his excellent Sapiens'. 21 Lessons for the 21st Century, was a Number One Bestseller and was described by Bill Gates as 'fascinating' and 'crucial'. Harari worked closely with renowned comics illustrator Daniel Casanave and co-writer David Vandermeulen to create his latest book, an adaptation of his first bestseller, Sapiens Graphic Novel: Volume 1.
Klappentext
100,000 years ago, at least six human species inhabited the earth. Today there is just one. Us. Homo sapiens. How did our species succeed in the battle for dominance? And what will our world be like in the millennia to come? Bold, wide-ranging and provocative, SAPIENS challenges everything we thought we knew about being human: our thoughts, our actions, our power ... and our future.

Zusammenfassung
It changes the way you look at the world' Simon Mayo 'I would recommend Sapiens to anyone who's interested in the history and future of our species' Bill Gates **ONE OF THE GUARDIAN'S 100 BEST BOOKS OF THE 21st CENTURY**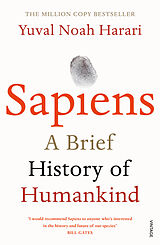 Leider konnten wir für diesen Artikel keine Preise ermitteln ...
billigbuch.ch sucht jetzt für Sie die besten Angebote ...
Die aktuellen Verkaufspreise von
10 Onlineshops
werden
in Realtime
abgefragt.
Sie können das gewünschte Produkt anschliessend direkt beim Anbieter Ihrer Wahl bestellen.
| # | Onlineshop | Preis CHF | Versand CHF | Total CHF | | |
| --- | --- | --- | --- | --- | --- | --- |
| 1 | Seller | 0.00 | 0.00 | 0.00 | | |
Onlineshops ohne Resultate: