Untertitel:
Swiss Sonography Group in Arthritis and Rheumatism
Autor:
Giorgio Tamborrini, Hans Ruedi Ziswiler, Pascal Zufferey, Laure Brulhart, Adrian Ciurea, Burkhard Moeller, Michael Nissen
Herausgeber:
Books on Demand
Erscheinungsdatum:
27.08.2019

SONAR (Swiss Sonography Group in Arthritis and Rheuma- tism) is a musculoskeletal ultrasound expert group founded in 2008. The group has developed a semi-quantitative score for Rheumatoid Arthritis using modified OMERACT criteria for synovitis, tenosynovitis and erosions. The score in- cludes B mode and Powerdoppler mode in finger joints, wrists, elbows and knees, an erosion and tenosynovitis score and ad- ditional cartilage measurement in selected joints. 2015 we developed and introduced a semi-quantitative score for hip involvement in Spondyloarthritis and started teaching the score to rheumatologists nationwide (Sonar-Hip or CoxSo- nar Score). Since 2008 we promote musculoskeletal ultrasound (msus) in the management of RA patients to increase the role of msus in RA and to improve patient outcomes. The So- nar-group offers msus courses to improve practical skills. The scientific commitee of the Sonar-group works with and supports the SCQM (www.scqm.ch) In 2018, the SONAR group has decided to focus more on the use of ultrasound in psoriatic arthritis and spondylarthitis. We have started a project concerning the implementation of a newly defined ultrasound enthesitis score in the registry. A preliminary score based on the OMERACT definition of ultra- sound elementary lesions observed in inflammatory enthesitis has been developped. The implementation process into SCQM has been finalyzed in 2019 followed by a validation study and teaching courses.

Autorentext
Dr. med. Michael Nissen, Universitaetsspital Genf, Rheumaklinik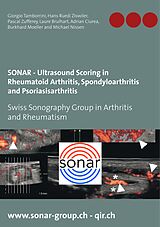 Leider konnten wir für diesen Artikel keine Preise ermitteln ...
billigbuch.ch sucht jetzt für Sie die besten Angebote ...
Die aktuellen Verkaufspreise von
7 Onlineshops
werden
in Realtime
abgefragt.
Sie können das gewünschte Produkt anschliessend direkt beim Anbieter Ihrer Wahl bestellen.
| # | Onlineshop | Preis CHF | Versand CHF | Total CHF | | |
| --- | --- | --- | --- | --- | --- | --- |
| 1 | Seller | 0.00 | 0.00 | 0.00 | | |
Onlineshops ohne Resultate: